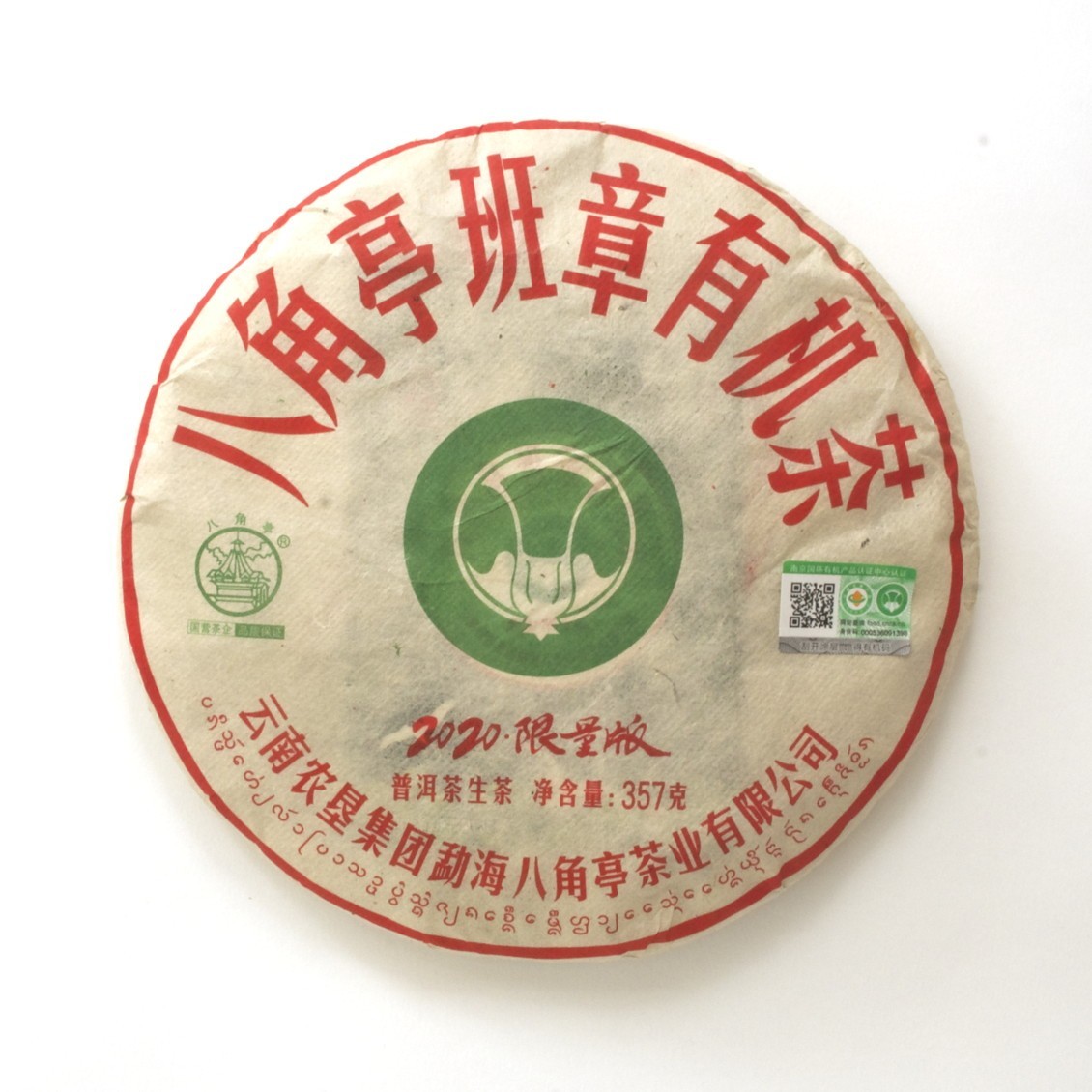  
Ban Zhang 2020
Ba Jiao Ting (Li Ming) - Ban Zhang You Ji 2020 八角亭 (黎明)班章有机 2020
This tea is a production by major Pu'er producer Li Ming (Ba Jiao Ting) with material coming from tea gardens of the infamous Ban Zhang area. It has a very delicate taste without much astringency. 
This tea has been produced by China's highest ecological standards which is indicated by the white cabbage (in Chinese called Da Bai Cai 大白菜)in the center of the wrapper. We've also got this tea tested in a lab and its results were very good. 

Li Ming (黎明, daybreak) is a rather large state owned tea producer that makes Pu Era tea under the label Ba Jiao Ting (八角亭, Octagonal Pavilion). This producer serves a wide spectrum of teas. You can find lower quality plantation tea as well as high quality tea from older trees and tea gardens. 
Taste
Bitter and sweet without much astringency
Trees
Blend of various ecologically grown bushes and trees
Origin
Ban Zhang, Bu Lang Mountain, Xishuangbanna, Yunnan, China
Harvest
Spring 2020
Ingredients
Camellia Sinensis Assamica - large leave
Brewing
For all our Puerh teas we recommend Gong Fu style brewing using 5-8g of tea on 100ml water. Rinse the tea briefly and then do repeating steeps (up to 6-12) of 10-20 seconds.
No customer reviews for the moment.